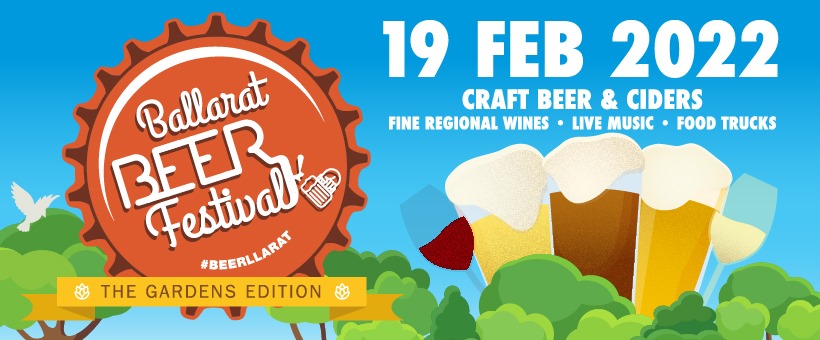 The team behind Ballarat Beer Festival, now in its eleventh year, have been brewing up their biggest event yet, kicking off with a Degustation Dinner on Friday 18 February and the main festival day on Saturday 19 February.
Join over 5,000 craft beer enthusiasts at Ballarat's lush North Gardens on festival day to experience a huge line-up of brewers offering a kaleidoscope of tastes and flavours from over 150 different brews from across Australia, as well as award-winning regional wines, G&T slushies and Sangria.
To celebrate the very best of craft beer culture the festival will include beer education classes, blind tastings, trivia games, the popular brewers sack race and plenty more to keep punters busy. Topped off with a great line up of local and Australian bands and an extended range of street food options, the festival offers the perfect day out.
The 2022 Ballarat Beer Festival line-up includes Bandolier Brewing, Bandwagon, Beer Republic, Bent Spoke, Blackmans Brewing, Brewmanity, Bright Brewery, Burnley Brewing, Cheeky Rascal, Colonial Brewing, Dainton, Dangerous Ales, Eddies Cider, Fury and Son, Green Gully Brewing, Harcourt Valley, Hawkers, Hop Nation, Kaiju Beer, Local Brewing Co, Moondog Brewing, Noodledoof, Paper Scissors Rock, Public Brewing Co, Red Duck, Sailors Grave, Stomping Ground, Tallboy and Moose, Tin Shed Cider, Urban Alley, Wayward, Wildlife Brewing and Young Henrys, with more to be announced.
The festival is dog and family friendly so bring the fam, grab a picnic blanket and take in over 20,000 square metres of lakeside beer action.
Ballarat is the home of regional craft beer, hosting a number of micro-breweries, over 3500 home brewers and the largest course for home brewing in Australia.
This is a sponsored content piece. To find out more talk to the Beer & Brewer sales manager.