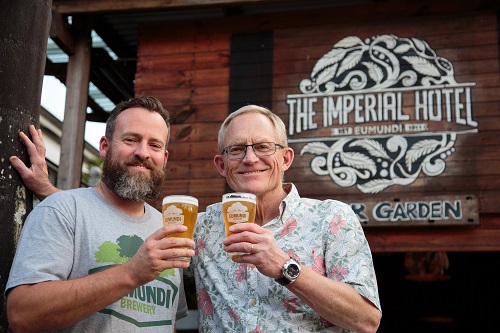 Lion has re-birthed one of the founding breweries of Australian craft, the Eumundi Brewery at the iconic Imperial Hotel in Queensland.
Lion's Master Brewer Chuck Hahn has steered the Eumundi Brewery project along with Head Brewer Chris Sheehan. Both brewers are excited to see the revival of a much-loved local craft beer for Queensland.
"Eumundi is unquestionably an artisan village, and we're thrilled to add our own craft to the mix – in the form of a great range of flavoursome craft beers," said Hahn. "These are beers that will be appreciated by locals, as well as the many visitors who flock to Eumundi, and indeed the Sunshine Coast. Our beers are brewed to international standards, but with loads of local input."
The beers are now available at the Imperial Hotel as well as at many great pubs and clubs across the Sunshine Coast.
Brewed on site in the home of the original Eumundi Brewery, the new Eumundi Brewery's first beers are a reinvented Eumundi Brewery Lager and a mid-strength Eumundi Brewery Pale Ale.
Eumundi Lager was born in 1988, after John Lynch (a brewing engineer and developer) invited people to invest in a brewery in Eumundi. The group purchased the Imperial Hotel, installed a brewery and launched Eumundi Lager in February 1988.
This was around the same time the Powers and Hahn breweries commenced production and they became three of the biggest brewers along the east coast of Australia.
Following a brief public listing, the Eumundi brewery was closed in 1992 and brewing was contracted to Yatala Brewery (formerly Powers Brewing then CUB). Brewing ceased in 2004.
Head Brewer Chris Sheehan said this is just the beginning for the Eumundi Brewery.
"Our first Eumundi Brewery lager brew and pale ale brew came out right where we wanted them to, and we're excited to share them. We'll now start looking at our first seasonal beer a Ginger Pale Ale, which should be a heap of fun partnering with local ginger growers," Sheehan said.
Manager of the Imperial Hotel Paul Thomas said it's exciting to be partnering with Lion to bring back a truly local beer to Eumundi and the Sunshine Coast region and to be able to share an authentic brewing experience with visitors.
"Visitors to the hotel can watch the brewers at work and see where the brewing takes place through big glass windows," Thomas said.
Brewery tours are also available for people to learn more about the brewing process.
A full interview with industry legend Chuck Hahn will appear in the Summer Issue of Beer & Brewer.