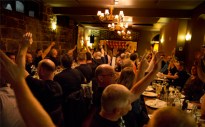 You are invited to a night of friendly rivalry and good times at the 2015 Hop Off Dinner at the Post Office Hotel, Coburg on Wednesday, 13 May.
Expert teams representing both the Australian International Beer Awards (AIBA) and Good Beer Week will compete against each other to see who can match the best beer and food combination.
AIBA is the largest annual beer competition in the world and presents large, medium and small global brewers of both packaged and draught beer. This year's awards will see the largest judging panel so far with more than 60 of the world's beer and brewing experts.
Beer lovers have the chance to mingle with the legends of the brewing industry as well as vote for their favourite beer and food match of the night in a three-course style meal. Attendees will also be able to meet the 2015 AIBA judges who were the official winners of last year's dinner.
The dinner will be hosted by beer writer and advocate Peter Mitcham of Beer Blokes (AKA Professor Pilsner). A perfect opportunity for all beer and brewing enthusiasts, the dinner kicks off at 7pm and tickets are $85 per person. To book tickets, click here.
Written by Daria Kurilo