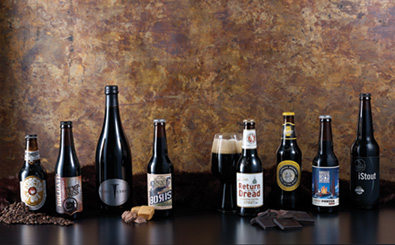 Perfect drinking for the cooler months, we get the lowdown on eight porters and stouts to savour this season.
(1) Hitachino Nest Espresso Stout
This is a delicious, robust stout from Kiuchi Brewery in Japan. Brewed with espresso coffee beans, the Hitachino Nest Espresso Stout appears dark brown, almost black in colour with good dense lingering foam. Aromas and flavours are dominated by an intoxicating combination of rich roasted grains, dark coffee beans, bittersweet chocolate, mocha, cocoa, dark fruits and caramel.
Food Match
Mocha fondant pudding
ABV: 7%
RRP: $10.50 per 330ml bottle
(2) Holgate Temptress Chocolate Porter
Crafted by the talented team at Holgate Brewery in Victoria, this is a luscious winter warmer. Infused with Dutch cocoa and whole vanilla beans, which together with a blend of seven malts, result in a complex palate of chocolate, coffee and caramel flavours, balanced by a hint of vanilla. Be tempted by this sultry seducer.
Food Match
Meat pie
ABV: 6%
RRP: $7 per bottle, $22.99 per 4-pack (330ml)
(3) Nail Clout Stout (2014)
Probably the stout by which all other Australian stouts are measured, Nail Clout Stout is the stuff of legends. Jet black in colour with a high viscosity, this beer exudes rich malt and chocolate aromas as soon as it slithers into the glass. The smooth, luxurious liquid is full of rich chocolate, molasses, coffee, woody, roasted malt flavours that dance together in harmony. With only 600 individually numbered bottles produced, this is a rare beer but one that everyone should try at least once.
Food Match
Oysters
ABV: 10.8%
RRP: $84.99 per 750ml
(4) Feral Boris Russian Imperial Stout
Does Feral never fail to hit the mark? Clearly not. Boris Russian Imperial Stout pours jet black with a rich, almost gelatinous full body. The aroma is packed with coffee and rich dark chocolate notes, which tease at the flavours to come. Roasted malt is prominent on the palate, interplaying with caramel, chocolate, coffee and a hint of raisins. Boris is a truly great mate to have around.
Food Match
Sticky date pudding
ABV: 9.1%
RRP: $8 per bottle, $27.99 per 4-pack (330ml)
(5) Return of the Dread Domestic Extra Stout
For the first Little Creatures seasonal release, they couldn't resist playing with one of their first single batches; The Dreadnought. Always ones to break the mould, the Little Creatures brewers took inspiration from the old favourite and developed the recipe into their own style of beer. With six speciality roasted malts coupled with their classic pale malt and a good dose of Fuggles hops thrown into the mix, Return of the Dread is a dark, black, formidable yet smooth stout, balanced with a pronounced bitterness. Aromas of chocolate, vanilla and liquorice. Taste is sweet and lightly bitter, with very long length. Palate is velvety, with a medium-to-full body.
Food Match
BBQ beef brisket
ABV: 7.2%
RRP: $18 per 4-pack (330ml)
(6) Coopers Best Extra Stout
Coopers Best Extra Stout is brewed using the choicest raw materials and classic brewing techniques, which produce a beer with punch. It is a beacon for lovers of a hearty brew, with a robust yet complex flavour, it's everything a champion stout should be. A rich and complex brew with an uncompromising flavour that delivers a spiritual experience for the serious Coopers connoisseur – a Coopers tradition. Welcome to the stout that is lauded around the world for its tradition and quality.
Food Match
Slow-cooked beef cheek
ABV: 6.3%
RRP: $18-$20 per 6-pack (375ml)
(7) Bridge Road Robust Porter
This rich, full and robust porter has been crafted in the foothills of the Victorian Alps. Big chocolate, roasted and mocha notes are the key to this style. A wise country football coach once said "there's no point half doing something". And in making this porter, Bridge Road Brewers has taken his advice on-board, using plenty of roast barley and chocolate malt to provide a big porter that won't leave you asking for more. Bridge Road's Porter, like many of its beers, pulls no punches. Make no mistake, the robust porter is big and bold, yet its smooth chocolate texture makes it one to convert the non-dark drinker.
Food Match
Forget the Champagne you simply cannot go past porter with oysters
ABV: 5.2%
RRP: $22 per 6-pack (330ml)
(8) 8 Wired iStout
This is a big Russian imperial stout from our New Zealand friends at 8 Wired. Rich, luscious, decadent and sexy as hell are all words that spring to mind when enjoying this masterpiece. Aromas and flavours of coffee, chocolate, raisin and malt are intertwined with bitterness and hop freshness. An intense beer to sip by the fire, albeit slowly, because at 10% ABV it packs a punch!
Food Match
Cheese board full of stinky blues
ABV: 10%
RRP: $18 per 500ml bottle
For more information on porters and stouts, check out the Winter Issue of Beer & Brewer.
Have we missed your favourite porter or stout? Tell us your pick here.