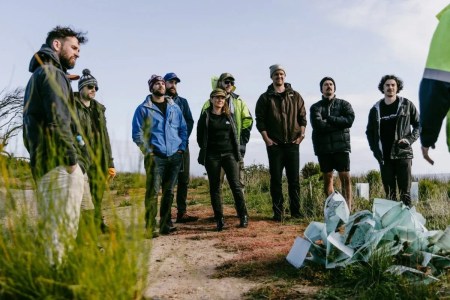 4 Pines Brewing Co has renewed its 4 Pines 4 commitment to Landcare with Cricket Australia, which sees the brewery support the planting of four native plants for every four hit by the Australian men's cricket team this Summer.
The initiative is capped at the planting of 44,444 native shrubs, trees and grasses, and last year the brewery decided to "throw the 4s tracker out the window" and commit to planting this number in full. According to the brewery, last year's commitment saw nearly 100 acres in Jervis Bay seeded with native plants, helping to provide a habitat for endangered species including the glossy black cockatoo.
"Since the planting, a South Australian glossy black cockatoo has been spotted at Deep Creek on South Australia's mainland. This is the first sighting of the species on the mainland in about 50 years," 4 Pines said in a statement.
4 Pines CEO Todd Atkinson said: "Since our inception, we have aspired to brew better. The opportunity to collaborate for another year to make a difference with our mates at Landcare Australia and through the bat with Cricket Australia is perfect."
His sentiments were echoed by Landcare's CEO Dr Shane Norrish.
"Landcare Australia is proud to continue our partnership with 4 Pines, a company committed to sustainability and enhancing Australia's natural environment.
"Following the success of last season's 4 Pines 4, we planted thousands of native trees, shrubs and grasses that will enhance local habitat, increase biodiversity and improve wildlife connectivity in the landscape.
"The partnership is an ongoing example of how corporate Australia can make a meaningful difference with Landcare in protecting our natural assets in conjunction with local communities."
Cricket Australia's Stephanie Beltrame added: "Cricket Australia congratulates 4 Pines on their re-commitment to plant 44,444 native trees in 2023 with Landcare Australia. We are very proud of our partnership with 4 Pines and their dedication to making a real and meaningful difference in the community and for the environment."