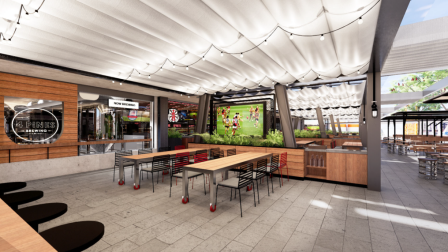 Sydney's beer and sports lovers will have a new venue to call home come Christmas as 4 Pines and sports bar chain The Sporting Globe announce a joint venture in Darling Harbour.
On the King St Wharf site of the All Hands Brewing House, the new sports bar and micro-brewery will be The Sporting Globe's first Sydney location and a continuation of 4 Pines branching out into on-premise venues. It is slated to open in December.
The Signature Hospitality Group, that owns The Sporting Globe chain of 15 venues nationwide, bought All Hands for $20 million earlier this year – just a few months after the brewpub won the 2019 Indies Award for Champion Australian Brewpub. 4 Pines will now brew a range of All Hands beers at the venue and feature them alongside their own creations in a 20 tap line-up.
The Sporting Globe's Founder and CEO James Sinclair told Beer & Brewer the partnership with 4 Pines was a natural fit.
"4 Pines are so well credentialled and they are iconic to Sydney so we think it will be the perfect fit for an iconic location that already has a track record for great beer and live sport," he said.
"And we're taking the booze cruise to a whole new level. People can start their day in Manly at the original 4 Pines brewpub, then catch the Manly Ferry and buy a beer at the 4 Pines Bar and then wind up in Darling Harbour at The Sporting Globe."
Head of marketing at 4 Pines Todd Atkinson said: "From day one, we've always set out to brew beer that we wanted to drink and that our mates would be proud of. This partnership with The Sporting Globe is a perfect fit for us, it will be a destination venue for catching up with friends – the best of live sports, the freshest beer and a harbourside location – we can't wait to open the doors".
The existing venue will receive a multi-million-dollar refurbishment that will see it close from October and re-open by December 2020. It will feature the biggest beer garden on Darling Harbour, a capacity to accommodate up to 850 patrons and over 50 screens for live sport.
Depsite COVID's impact on the hospitality industry, James said he was "bullish" about the future.
"Our venues in WA and Queensland have been doing well and sport is Australia's number one past-time – it's a huge part of our culture," he said.
"Sport has been a great distraction in recent months and I think people are desperate for more sporting content."
Contact Beer & Brewer by clicking here to share your news and views.