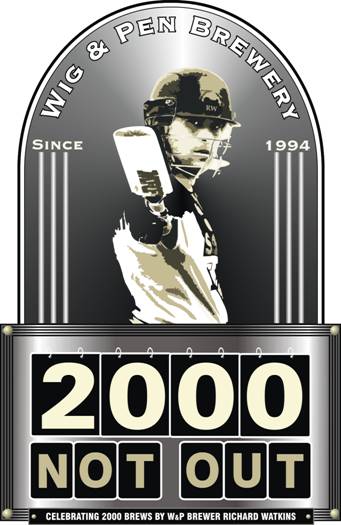 Canberra based craft-brewer Richard Watkins, is celebrating this month having just notched up his 2000th professional brew. Brew number 2000 for Watkins, aptly named '2000 Not Out', is currently on tap at Canberra based micro-brewery – the Wig & Pen. In true Watkins style, the beer boasts an impressive flavour pallet; a hop driven, strong Belgian golden ale.
In a career spanning 13 years as head-brewer at the Wig & Pen, Watkins has become the most awarded brewer in Australia, receiving countless recognitions for his brews both here in Australia and overseas.
2000 professional brews is considered quite a feat in what is still a young industry. Head brewer for Australian brewing heavy-weights Lion Nathan, Bill Taylor comments: '2000 brews is a milestone, but the simplicity of the number doesn't do real justice to the energy and diversity that Richard has brought to those brews'.
'2000 Not Out' is on tap now at the Wig & Pen.
For all press enquiries: Richard Watkins 0414 577 179