This year marks Alfa Laval's 95th anniversary in Oceania – a milestone achievement that's seen them establish a legacy of supporting local breweries when and where they need it. Looking ahead, with their eyes firmly set on bringing up a century, they are committed to many more years of providing on-the-ground after-sales service so brewers can have all the peace of mind they need.
While the company was founded more than 130 years ago, Alfa Laval's direct Australian presence dates back to 1926 following the buy-out of a long-time distributor before its New Zealand subsidiary was incorporated in the following year. Known back then as AB Separator, the company's business was initially focused on separators for the agriculture and marine industries.
In the intervening years Alfa Laval has continued its founding traditions of ushering in new innovations through the likes of their popular BREW centrifuges for breweries. But because many of their centrifuge customers Down Under are spread far and wide, having local support has been an absolute priority. This is as important today as it was when Alfa Laval were first establishing a name for themselves all those years ago.
Alfa Laval field service technicians, who are strategically based in NSW, WA, VIC, QLD and New Zealand, are renowned for their product and industry knowledge, and just like in those formative years, they travel extensively to commission, maintain and repair equipment onsite, even in the remotest of towns.
For major centrifuge repairs, ranging from maintenance and cleaning to coating, welding and bowl balancing, centrifuges are sent to Alfa Laval's fully-equipped service centres located in Sydney, Australia and in Hamilton, New Zealand.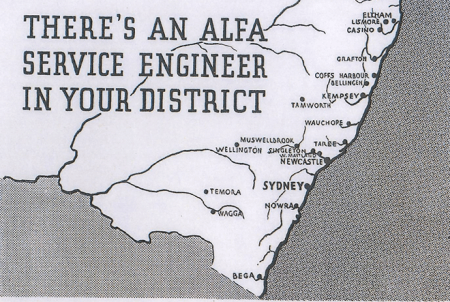 As the separator innovator, Alfa Laval has been the leader in the development of centrifugal separation technology for more than a century and continues to introduce new models that improve the beer quality, taste and production efficiency for brewers.
Alfa Laval's unique and innovative features available for disc stack separators, such as their BREW centrifuges for breweries, include:
Alfa Laval Hermetic Design™ which raises product quality by preventing air from getting into the separator.
The Alfa Laval eDrive™ direct drive system provides an energy-efficient separator drive that has fewer moving parts compared to traditional gear- or belt-drive systems. Unlike most gear-drive systems with up to three shafts, the eDrive direct-drive motor has just one shaft.
Alfa Laval eMotion™ improves hygiene, reduces the load on the motor and helps realise up to 75% in energy savings. By reducing air pressure in the space between the separator bowl and the frame, there's less friction inside the separator bowl and less friction heat.
The Alfa Laval UniDisc™ is a revolutionary new disc technology that increases separation capacity by up to 30%, while at the same time providing an easy to clean design and never-before-seen degree of hygiene.
Innovations have been at the core of Alfa Laval separation technology for more than 130 years. Co-founder Gustaf de Laval patented the centrifugal cream separator in 1878 and a great number of other inventions. Today, Alfa Laval is a leading global provider of first-rate products in the areas of heat transfer, separation and fluid handling. Alfa Laval provides breweries with a large range of products and process modules that combine increased efficiency and robust reliability with low total lifecycle costs. The company has a long and strong local presence with service centres and field service technicians across Australia and New Zealand.
This is a sponsored content piece. To find out more talk to the Beer & Brewer sales manager.