NZ Hops' newest proprietary variety Nectaron® may have taken things slow and methodical coming in to this world, but it's wasting no time now that its intense tropical pineapple, passion fruit and stone fruit characters have been unleased on the brewing world.
Following 17 years of careful field testing in conjunction with New Zealand's Plant & Food Research, Nectaron® was finally commercially released midway through 2020 and has quickly found favour since with brewers and drinkers alike, especially due to its fruit-forward characteristics in a range of beer styles – including NEIPAs, IPAs, pale ales and lagers. Its impact has been so notable that in a survey conducted last year by America's Brewers Association the new hop on the block, that's available in Australia via NZ Hops' local distributor Bintani, was the fifth most desired variety respondents were looking to see more of in the future. For such a new variety its almost unheard of to see this kind of response so quickly.
Now, following this year's recent harvest, Nectaron's® upward trajectory is set to continue with growers raving about the 2022 crop.
Both first-year planted fields and mature plantings yielded good crops, with NZ Hops' quality manager and grower liaison Lauren Yap noting: "The quality of the crop has been exceptionally high, with great aromas and a lot of cones harvested off the bines that are abundant with golden lupulin".
NZ Hops' operations and supply manager David Woods added: "The early indications for crop quality across the board are very good and we expect the brewers will be very happy with any 2022 product they receive".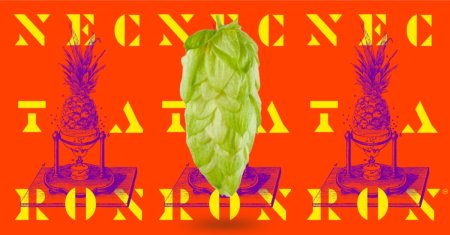 Bintani said demand for Nectaron® is high so brewers need to lock in their contracts/orders if they haven't already.
Best used late or when dry hopping, Nectaron® has regularly featured in beers made by some of the top Australian craft brewers with Range Brewing, Balter, One Drop Brewing and Beerfarm among those to have harnessed its attributes.
As well as Nectaron®, Bintani is your Australian go-to source for all of the NZ Hops varieties, including Moutere™, Motueka™ and Nelson Sauvin™.
Order your Nectaron® and NZ Hops' other New Zealand varities through Bintani.
This is a sponsored content piece. To find out more talk to the Beer & Brewer sales manager.