In these unpredictable times one thing remains clear, brewers are still focused on creating beers with distinction. They may have other things on their mind at times, but when all is said and done, and they're getting down to what they do best, the fact of the matter is they always want to make beers that sing. As hop-forward beers increasingly become the way brewers look to achieve this result, being able to bank on the performance of key ingredients has never been more important.
This year, Hop Products Australia (HPA) harvested 847 hectares across their Victorian and Tasmanian farms which resulted in 1,821 tonnes of hops. This was a 37 hectare (4.5%) net increase and a 164 tonne (9.9%) net increase year-on-year across six proprietary varieties – Eclipse, Ella, Enigma, Galaxy, Topaz and Vic Secret – as well as Cascade. This year's average oil content came in equal or above the five-year average for all of their proprietary hops.
In simple terms, according to HPA's head of sales and marketing Owen Johnston, "brewers should be very happy indeed with what's in store for them".
"Brewers around the world worry about what they can expect in their beer in terms of hop performance each year. In 2023, we've seen tremendous oil content across our proprietary portfolio," Owen said.
"HPA hops are there to provide brewers with choice and diversity. Each one is a building block that has been created to have distinct impact in beer. This is our promise to our brewing customers, and we feel we're in lock-step with their mandate to create difference through the disruption of flavour."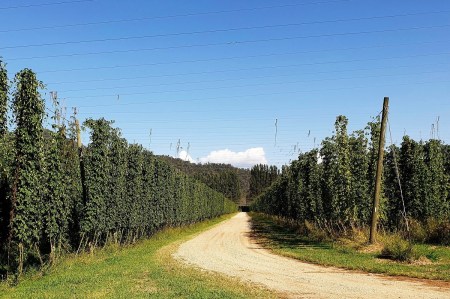 Eclipse on the rise
Alongside the consistently outstanding performance of the likes of Galaxy, Vic Secret and Ella, HPA's latest proprietary hop Eclipse has taken massive strides forward. It's now their third top hop in terms of production volume (161 metric tonnes) and is "set to have an exceptional year of impact in beer" following a very strong showing in oil content.
Released commercially in late 2020 after 16 years in HPA's breeding program, the sweet mandarin-flavoured hop is now showcased in core range and limited releases across a range of beer styles around the world.
"It's a 10 out of 10 hop when it comes to impact in beer," Owen added. "It's equally up there with Galaxy and, coupled with the unmistakeable sweet mandarin characteristics, it's easy to use. It does exactly what it says on the label, with an incredible intensity, and is smack bang in one of the highest consumer acceptance spaces when it comes to flavour, which is that citrus category. It really delivers.
"We'll be looking to ramp Eclipse up to 180 tonnes in 2024. This is our strongest commitment to the growth of a new proprietary hop, including Galaxy when it was released in 2009, which is an indication of how much we believe in this hop."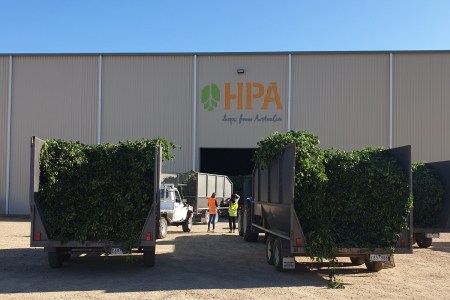 Pack leaders
Consistent year-on-year outcomes, like those experienced by Eclipse, are what have allowed HPA to pursue significant investments to strengthen the business' infrastructure for the long-term. The next step in that journey will be commissioning their new processing facility in Myrtleford, Victoria in time for the 2024 harvest.
The temperature-controlled pellet plant and form, fill and seal packaging line will produce in excess of 50 tonnes of pellets per day and will be the central hub for all HPA hops, no matter where they're grown.
With part of the 2023 harvest to be used to commission the facility, Owen said its impact will "represent a quantum leap forward" for HPA and deliver quality gains for brewers.
"It will allow us to really deliver on our philosophy of the highest possible quality with the lowest possible variance in the finished product by taking a whole crop approach to blending. Centralising pelleting and packaging will help us deliver on this promise and give our brewing customers even greater confidence in Aussie hops.
"Two things are critical to fulfilling that mission: one is consolidation of a hop, regardless of where it is grown, brought into a centralised location; the second is the state-of-the-art equipment. The modern pellet plant and packaging line will be a positive step change for us. We're going to be able to fill world class packaging with world class pellets which can only be a good thing for our brewing customers."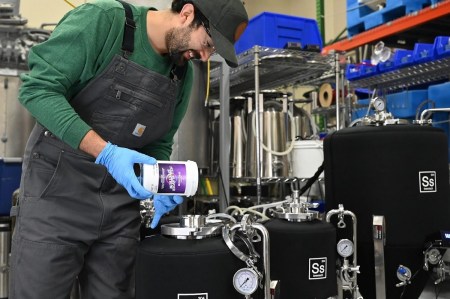 Full flavour SPECTRUM
Just as they're looking ahead to what the new processing facility will offer, HPA have an eye on the future of hops as well. In recent years they've worked closely with the global BarthHaas group's Brewing Solutions team to develop Aussie hops in innovative products.
Now, Eclipse, Galaxy and Vic Secret are all available in SPECTRUM – a revolutionary way to dry hop without the need for specialised equipment. The 100% hop-derived, flowable and fully dissolvable liquid product is prepared from traditional pellets using an extraction process, and minimises loss and tank times while maximising hop flavour and brewing yields.
One Aussie brewer to realise the impact and potential of SPECTRUM in the brewhouse is Mick O'Rance from Sunday Road Brewing who's used it in four separate beers in quick succession.
For Mick, using new products like SPECTRUM is part of the search to find a point of difference in a crowded market, where nuance and improvement in the overall hop character can elevate a beer above the competition.
"I definitely think SPECTRUM shines for that purpose," he said. "Alongside major flavour impact, the big benefit for brewers is ease of handling and beer savings.
"It comes in easy to handle and store 1kg tubs, which take up a lot less space in the cool room. Post addition, using a small amount of SPECTRUM replaces many kilos of vegetative T-90 hop pellets, which soak up and swell with beer.
"I've seen beer losses drop from approximately 20% using T-90 hop pellets in hazy styles down to somewhere near 10% using SPECTRUM. This is a massive amount of beer to save."
Head here for more information.
This is sponsored content. To find out more talk to the Beer & Brewer sales manager.