Stoked on your brewery's new branding? Fantastic. Cans jumping out from the shelf? Perfect. Logo is looking schmick on your brewery signage? Brilliant. Customers are proudly wearing your merch? Hell yes. Job done? Hell no!
To run a brewery, you must keep brewing beer (and thank you Captain Obvious). To keep selling beer, however, you need to keep marketing your beer. It's no small feat to have a strong brand in place, one that customers will recognise, understand and admire. But to ensure they keep recognising, understanding and admiring it, you must keep on marketing, as constantly as you keep brewing the beer.
Branding and marketing are often confused for one another, and they do have some overlapping elements, but you do need to understand the difference in order to build brand equity and ultimately sell more beer. Think of branding as WHO you are, and of marketing as HOW you sell.
Branding is your personality, your values, your tone of voice, your sense of humour, your sense of aesthetic, your interests, your beliefs and your quirks. Branding is timeless and these attributes will be communicated consistently within a strong brand. This way you are instantly recognised for who you are and what you stand for.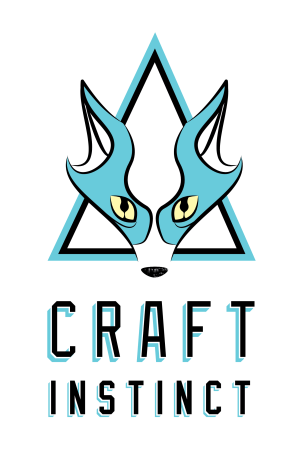 Marketing is how you sell, not just your beer, but your brand as well. The up-keep of marketing is to make sure your brand cuts through the noise, becomes recognisable and has the opportunity to delight the target customer. It's social media, it's in-store activations, it's festival stand design, it's competitions, it's advertising. But all this must stay true to who you are, so your customers recognise and understand your brand.
It takes five to seven times of interaction with a brand before it becomes recognisable, which is why consistency in marketing your brand is so very important. In my experience designing brands for breweries, motivation to keep their marketing consistent with their brand begins to slip about one to two years after launching. Just like dieting, it's all hype and motivation at the start, but then attention will lapse, and before you know it, those scales are headed in the wrong direction.
Segue into plug! But seriously, this is the actual reason Craft Instinct has teamed up with Kate Paterson (founder of Good Beer Week as well as ex Head of Industry Development at the IBA) is now head of Conquer x Chaos Activation & Sponsorship Agency. It's a place where brand (that's me) meets marketing (that's Kate). We work together to develop a strategic marketing plan that will keep up your brand consistency, and ultimately your sales. Too often we have seen beautiful brands developed and launched, only to forego consistency which starts a dangerous slip and slide, losing customers and sales along the way.
Kate has been around the block a few times on this issue as well. She is dedicated to helping breweries just like yours to avoid this, but also to strategically build your business through marketing, which paves the way for amazing opportunities such as activations and sponsorships with aligned organisations.
"The most important lesson I have learned is that marketing is a long game," Kate says. "You can't expect to put one ad up for brand loyalty to just happen. You need to be consistent in your brand's narrative. You need to look at what your company is doing holistically and how your practices, products and brand ethos connects with your audience."
Brand Amplifier will get you to do just that. Kate and I will help you clarify your goals, and deliver you a step-by-step, holistic and realistic plan to achieve them. For more information on how to amp up your brand through this service, download the brochure here or get in touch via our website www.craftinstinct.com and we look forward to getting loud with you!
Jessie is a craft beer branding specialist and is the founder and creative director of brand development agency Craft Instinct.
This is a sponsored content piece. To find out more talk to the Beer & Brewer sales manager.