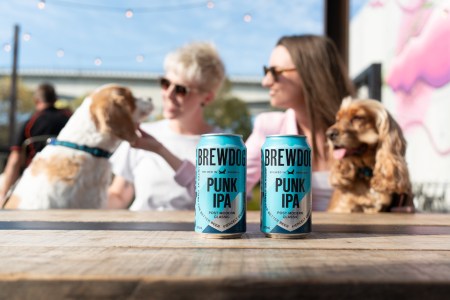 To mark today's International Dog Day celebrations, craft brewery BrewDog has announced it's unrolling the DogKeeper package – a national scheme that's offering free beer to dog-loving Aussies.
To be eligible for DogKeeper, people simply need to upload a photo of themselves and their dog to Instagram by September 2, tag it with #BrewDogKeeper and @brewdogau, and explain how their dog has helped them through the pandemic.
Celebrating BrewDog's first headliner beers to be brewed in Australia, which includes their flagship Punk IPA, 50 DogKeeper packages will be given away, while they will also be available to buy from BrewDog's new national online store from Monday 31 August.
The DogKeeper package includes the full Aussie-brewed BrewDog headliner range (Punk IPA, Hazy Jane New England IPA, Elvis Juice Grapefruit Infused IPA, and a West Coast classic Pale Ale) and a special Subwoofer IPA.
Calvin McDonald, BrewDog's head of Australian operations, said the launch of their new online site is an exciting development in the brand's expansion Down Under since it opened a brewery and taproom in Brisbane last year.
"We're so excited to be brewing right here in Australia and getting our beer in people's glasses right around the country," he said.
"We couldn't be happier with the quality of the beers coming out of Brisbane – the brewery has an excellent kit that is capable of nailing all styles, so we're excited to build this even further with new products and
collaborations."
BrewDog said it plans to brew Australian-inspired beers using local ingredients and is launching Brisbane brewery tours next week, as well as a beer school at the DogTap taproom where people can book a tutored beer tasting session.
Head here to read how BrewDog has become carbon negative and that it will remove twice as much carbon from the air than it emits every single year.
Contact Beer & Brewer by clicking here to share your news and views.