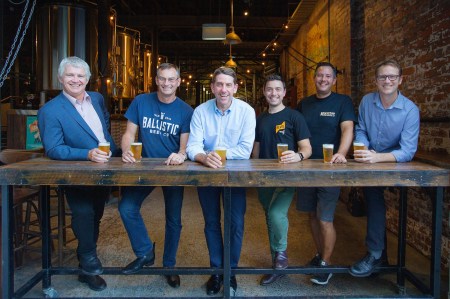 By Andy Young, TheShout 
Queensland's Minister for State Development, Manufacturing, Infrastructure and Planning, Cameron Dick, has spoken with brewers at Brewsvegas 2018 about a plan to strengthen the government's role in supporting the craft brewing industry.
Dick said the Palaszczuk Government recognised the benefits that local craft brewers offered to the economy and would tailor a Queensland Craft Brewing Strategy to the industry's needs.
"Year after year, craft brewing has been the fastest growing segment of the beer market; a trend that we're only seeing accelerate," he said.
"Craft beer production in Queensland is estimated to be worth around $62m per year and growing, and our state's market share of the sector in Australia has risen by around 2.8 per cent from 2016 to 2017.
"More than 13 per cent of the 516 independent breweries in Australia can be found in Queensland, and no less than 22 new breweries have opened in our state in just the last 12 months alone.
"The Queensland brewing industry has asked for support to achieve their fullest potential, and I want them to know we are listening and that I'm keen to work with our brewers to sustain their growth and maximise the industry's wider benefits.
"There is more that can be done to target our support for this young industry and I will be working across government and with craft brewers to ensure our strategy addresses local needs and encourages local investment and jobs."
Independent Brewers Association CEO Chris McNamara welcomed the move, saying: "The independent brewing scene in Queensland is young, vibrant, brimming with great ideas and ready to grow quickly, making this the perfect time for the government to become involved and ensure the conditions are right to facilitate that growth," he said.
"It's a welcome sign of how seriously the Queensland Government takes this industry and its potential."
The announcement came after Dick met with several craft brewing figures at the Newstead Brewery, and Newstead's CEO Mark Howes, said the move represented a big step for the state's craft brewers.
"The craft scene here may not be as mature as it is in some other states, but that's led us to continuously innovate and strive to be the best," he said.
"Having the Queensland Government come to the brewing community and ask what we need to get our beers to wider markets more competitively is a positive step for us."