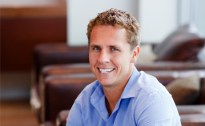 Carlton & United Breweries (CUB) has officially appointed beer marketer Richard Oppy as its new marketing director. After joining CUB in 2001, Oppy has worked across numerous roles including having a lead role in progressing the CUB international portfolio, the relaunch of Victoria Bitter and the launch of Carlton Dry in 2007, now one of the fastest growing brands in the country.
CUB's chief operating officer, Mike Walsh, has full faith in Oppy as an experienced and enthusiastic professional who'll lead the marketing team through the complicated beer market.
"Richard has worked across every brand in the business," said Walsh. "I am confident he will passionately lead our marketing team and become a valued member of our executive team."
Oppy has acted in the role since late last year when former director Peter McLoughlin stepped down due to ill health.
Humbled and excited to be given the opportunity to direct and lead the CUB marketing team, Oppy acknowledges the challenges he and the team at CUB face. In such a competitive and ever-growing market, Oppy says one of the biggest hurdles is turning the beer category around.
"We know we have to be bold when it comes to innovation and make sure we're nimble enough to deliver what drinkers want," said Oppy. "We will continue delivering value for our customers."
Words Lucy Le Masurier