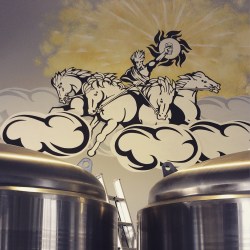 A new, solar-powered and sustainable brewery has been opened in Yeerongpilly, south Brisbane.
Helios Brewing Company was founded by environmental engineers Scott Shomer, and Tony and Jayne Rutter, who set out to design every piece of kit to be as energy efficient as possible. Named after the Greek god of the sun, the brewery features 56 x 335W photovolataic solar panels and a 15kW inverter. This equipment does not just power the brewery – 40% of the power produced is exported to provide energy for the local grid on non-brewing days.
"I decided to see just how green and how sustainable we could be," says Shomer. "How little water can we use, what can we reuse, what waste can we reduce, how low can we get the electricity, how much electricity can we produce? It was a personal mission for me to see how green I could get it."
To bank power production, a logic panel has been designed, which controls electrical flow to the cold liquor tank, turning it on only during peak midday power production. This means they are effectively storing excess energy as cold water. Water is re-used wherever possible, while a special cleaning system allows the basic cleaning solutions to be used to up 10 times.
"We worked with some engineers from Melbourne that make super efficient solar hot water systems that work in cloudy conditions like Tazmania," adds Shomer. "It will get our water up to 95°C straight of the roof. So for the mash process we use zero power. We're working with the government and the local university, looking at the next generation of batteries. Once we get that next battery, we will truly be solar-powered."
Helios' range of beer follows its theme of Greek gods, with a Poseidon Pale Ale (5.3% ABV), Athena Scottish Ale (5.4% ABV) and Hades' Bitter Chocolate Stout (5/0% ABV) among a six-strong core range. The beers are produced by award-winning Western Australian head brewer Charlie Hodgson.
"We're trying to push the quality of our beers," says Shomer. "We're producing some very complex beers that have some depth to them. It's a lot of fun. Running with the gods and monsters gives us a lot of latitude."
At present, Helios is focused on in-house sales and distribution to local pubs and restaurants, but the plan is to start mobile canning soon and get the product out further. The brewery has a tap room, with a mezzanine looking down over the brewery, and Shomer also owns the vacant lot next door.
"Everyone here is looking at a massive mural of Helios and a canyon of stainless steel," says Shomer. "I intend to expand into the second lot, so we've got room to grow."
Helios isn't the only brewery getting involved in solar energy. Stomping Ground in Collingwood, Melbourne, recently installed solar panels at its brewery, along with Victoria's Bright Brewery and Sydney's Young Henry's.