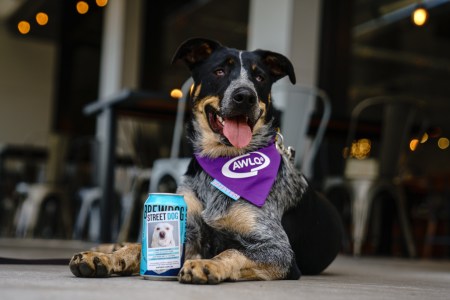 Scottish craft brewer BrewDog has teamed up with the Animal Welfare League Queensland to help dogs find their forever home in the lead up to Christmas. In a canine play on the 'milk carton kids' campaign of 1980s America, space on BrewDog's Australian-brewed Punk IPA beer cans will be used to showcase profiles of homeless dogs in a bid to increase their chances of adoption.
The collaboration follows on from the success of BrewDog's recent 'Street Dog' campaign in the UK that saw all featured dogs rehomed.
As well as shining a light on homeless and abandoned dogs, BrewDog will donate 100 per cent of all profits generated from the sales of the Australian 'Street Dog' campaign to the Welfare League.
BrewDog co-founder James Watt said: "We are always looking for ways to use our business to do good. Now we want to take it one step further and bring Street Dog Down Under to support our pawsome four legged friends over at Animal Welfare League Queensland by giving up the space on our cans to help them find forever homes".
Founded in 1959, Animal Welfare League Queensland has become one of Australia's leading animal welfare organisations, working with councils and the community to improve the outcomes for abandoned and homeless pets. During this time, Animal Welfare League Queensland has rehomed more than 168,000 and saved thousands more through their community support programs.
Craig Montgomery, Spokesperson for Animal Welfare League Queensland, said: "Hundreds of thousands of healthy and treatable cats and dogs are being abandoned and killed in pounds, shelters and vet clinics each year in Australia. Animal Welfare League Queensland is committed to changing this and it is our promise to never euthanise a healthy, social or treatable animal in our care. BrewDog's incredible support is helping to draw awareness to the thousands of animals that need rehoming".
The 'Street Dog' Punk cans are available in 8 and 16 packs from brewdog.com/au.