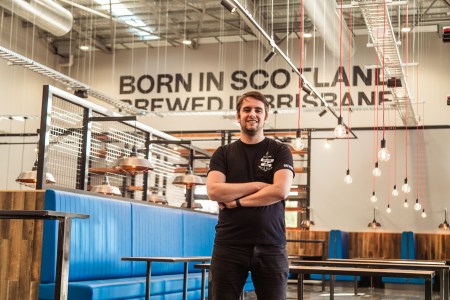 BrewDog has announced the launch of its new taproom and brewery.
The Scottish brewer's first brewery in Australia is called the DogTap Brisbane and is set to open in November 2019 on the banks of the Brisbane River at Murarrie.
The new brewery, which uses a fully automated four-vessel 25Hl brewing system, is expected to start brewing in January 2020. Beers brewed at the Brisbane brewery will include BrewDog's core range, but also a collection of small-batch brews.
The Brisbane brewhouse will also house a barrel-ageing facility, which will create a range of Australian-exclusive beers. The first beers will be going into barrels in January 2020.
"DogTap Brisbane is one of the biggest and best bars we've ever created, and we're so excited to open this amazing space," says James Watt, who founded BrewDog with Martin Dickie in 2007. "We've shipped BrewDog Headliner beers to Australia for nearly ten years, but this new brewery will now give us the capacity to reach new corners of the country.
"The craft beer scene in Australia is one of the best in the world and we're super excited to finally open our doors, join this incredible community and get freshly brewed beer into the hands of Australian beer fans."
The DogTap Brisbane is BrewDog's 94th bar globally, but it is only the fourth taproom that is directly attached to one of its breweries. There will be 28 taps serving BrewDog's core range, as well as a range of local guest beers from breweries such as Range Brewing, Currumbin Valley Brewing, Balter, Aether, Brouhaha and Black Hops.
The wine list will only feature Australian wines, while there will be plenty of Australian spirits and a local-only soft drinks offer.
The venue itself will feature a mix of leather booths, communal high-top table and a 485 sq m outside patio, which will feature artwork from BrewDog's resident artist Fisher. There will also be an arcade area, an innovative beer cellar made from a shipping container and a full shop complete with beer fridges.
BrewDog's expansion into Australia has been supported by the Queensland Government through the Advance Queensland Industry Attraction Fund.