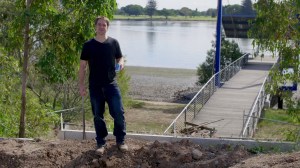 BrewDog co-founder Martin Dickie was in Brisbane on Monday 26 May to visit the site which will house the Scottish craft brewer's new brewery and taproom.
Located on the riverfront, the brewery itself will be a 25hL automated brewhouse with eight 50hL fermenters, which Dickie expects will give the brewery the "flexibility to brew some incredible one-off beers, as well as being able to fulfill our volume for Punk IPA, Lost Lager and Dead Pony Club, beers that will be canned and then sold in the off-trade as well".
Dickie has also stated that the brewery will have the capacity to scale up production should demand in Australia increase, even to the point of being able provide beer for other nearby countries as well.
The taproom is about 450 sq m internally and significantly larger outside. Around 30 taps are expected to be installed, with two thirds of them pouring BrewDog beers and the remaining third dedicated to craft beers from local breweries. There will be awnings outside to protect drinkers from the midsummer heat, "which is not something we're used to coming from Scotland," remarks Dickie.
Despite initial reports suggesting that the brewery would have opened in early 2019, it is now expected to be ready by the end of the year, which Dickie considers normal given that BrewDog has built the site from scratch.
"It's a greenfield project," he says. "We've done these projects in Scotland and America, so this will be our fourth from-the-ground-up project, and generally the time to do a project like that is between 18 and 24 months. And we're only 15 months through the project in Brisbane and the finishing line is very close now.
"We're super excited for the last few months, getting the buildings all up and the brewery installed. The next four to eight weeks will be getting the last of the flooring done, then getting the electrical stuff put in and getting the shell in so we can fit in the equipment. In terms of a project of that scale, I think it's on track.
"With any building project there's normally a fair bit of time for the actual building to come out of the ground, but once that happens, it's actually quite a quick run-in from there."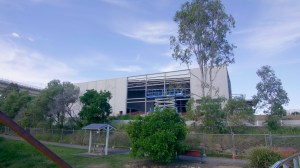 BrewDog will be looking to hire some local brewers, as well as a head of production and sales team in the coming months. As well as brewing for volume, the brewery is also keen to make beers specific to the Brisbane and wider Australian market. This will involve using Australian and New Zealand hops in a way they've not done before, but also getting involved in the use of wine barrels.
"We work quite heavily with whisky casks in Scotland, and also some bourbon casks so we'd look to have our barrel ageing program set up here as well," says Dickie. "For the first time we'll be able to hopefully get hold of some fantastic wine barrels as well. We're really excited to be able to have a few a collaborations hopefully with some great Australian wineries and see how our beers work in wine barrels.
"And then also work with some of the great spirit producers as well. There are some fantastic gins and whiskies and rums all being made in Australia, so we'd really like to get to know some of these amazing producers and work hard to make some great beers as collaborations with them."
Dickie cites both Queensland's location and craft beer credentials – such as Black Hops, Green Beacon and Balter, as reasons why Brisbane was chosen for the BrewDog site.
"We wanted a base in Australia, and we found Brisbane to be that perfect spot," says Dickie. "It's in a great location, the transport for the majority of Australia is good, so we can cater for the Australian market on the whole out of Brisbane quite easily. And then the other piece is how we fit into the community of brewers.
"We really want to chat and work alongside these guys. It's all about immersing ourselves in the Australian culture, with the hops and the barrels, things that we've never had the opportunity to work with before – trying to get BrewDog's take on this part of the world and what beer can we come up with here.
"But at the same time, it's working alongside some of these amazing breweries and helping each other make the beer scene in Brisbane even better as we go forward."