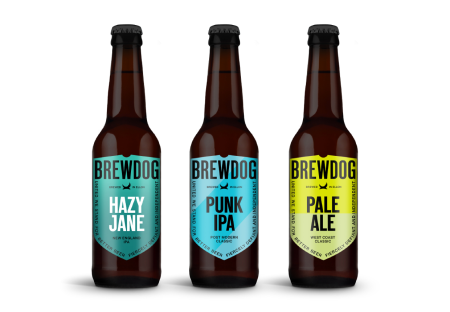 Aberdeen-based brewery BrewDog has announced new branding and new sustainability initiatives as it approaches its 13th birthday.
The brewery has launched a new six-point plan to reduce its environmental impact called BrewDog Tomorrow.
"We have always believed that business should be a force for good and that brave thinking and bold actions are the only way to make real impact," the brewery said in a statement. "Today, we are in the middle of a climate crisis. It is a crisis of our own design, driven by big business. We recognise our contribution and the limitations of our industry."
BrewDog's six point plan includes giving people the chance to become a BrewDog Equity Punk by trading in 50 empty cans. The brewery will also be giving old cans a 'second life' by using them again to fill with their beer.
Imperfect and excess beer will no longer be thrown away, but will now be distilled and turned into a vodka.
The brewery will also be encouraging people to brew their own beer to reduce the carbon footprint and liquid transport miles. To this end, BrewDog will be making all of its recipes, new brew standards and accountability reports available and open source.
Finally, the brewery will invest $1 million a year in research and initiatives that "help our industry and have a positive impact on the world".
BrewDog recently opened its first full vegan bar in Dalston, London, while the city also saw a pilot alcohol-free bar open in Old Street for Dry January.