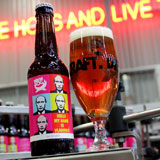 British brewers BrewDog have decided to make a political statement… and where some would write angsty folk songs, organise a march, or (God help us) write a poem, the BrewDog team went the only way they know how. They brewed a beer.
Hello, my name is Vladimir is the name of the brew, a double IPA brewed with Limonnik berries (a famous, far-eastern berry known for its lemon-like aroma) to poke fun at Russian President Vladimir Putin's penchant for "wrestling burly men on a Judo mat and going fishing in his Speedos… and to raise awareness about the Russian Government's clampdown on homosexuals.
The BrewDog website has got an hilarious series of photos to help launch the beer – and 50% of the profits from it will go to "charitable organisations that support likeminded individuals wishing to express themselves freely without prejudice".
And, just to make sure that Putin gets the message, the team says it has mailed a slab of the brew to the Kremlin. Brilliant.
Check out the launch page at the BrewDog website.