Scottish craft brewer BrewDog has settled on Brisbane as the location for its state-of-the-art Australian brewery and headquarters.
After announcing in July last year that it had narrowed its search for a site to Newcastle in NSW and the Queensland capital, BrewDog yesterday revealed the exact location of its new home: right on the river in the Brisbane suburb of Murarrie.
BrewDog's investment in Brisbane will total $30 million, including the construction of the 50hl, 3,000 sqm brewing and canning facility. The site will also boast a restaurant, taproom and visitor centre.
Construction is due to start in the second half of 2018 with the first Australia-brewed BrewDog beers expected to roll out in early 2019; BrewDog will be brewing its core line-up of beers including Punk IPA, Dead Pony Club and Jet Black Heart, as well as small-batch brews specifically for the regional market.
"We've been so humbled by the support from local businesses as well as the local community who have shown a real passion for BrewDog to call Brissie home," said Zarah Prior, Director of BrewDog Australia.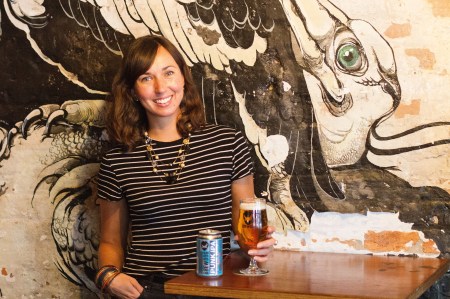 "It's a city that's on the brink of some incredible growth, and we can't wait to be a part of that. There are tonnes of amazing local breweries we're looking forward to working alongside and collaborating with.
"From local brewing pioneers Green Beacon and Newstead, through to up and coming breweries like our mates at Range Brewing. We are hugely appreciative of the support we received from Brisbane Marketing, Austrade, and the Queensland Government all of whom played a role in sealing the deal for Brisbane."
After a public request for its Australian fans to submit ideas for a suitable location, BrewDog say they were inundated with hundreds of proposals, including a video pitch from the Government of South Australia.
Following numerous scouting trips, meetings and feasibility studies, BrewDog settled on the Queensland capital as the site of Australian headquarters. The launch of BrewDog Australia is expected to generate 150 jobs in the Brisbane area over the next five years.
Minister for State Development, Manufacturing, Infrastructure and Planning Cameron Dick said: "BrewDog's choice of Brisbane over other interstate locations to open its first brewery outside of the UK and the US is a vote of confidence in our state from one of the world's most successful independent breweries."
Brisbane Lord Mayor Graham Quirk also welcomed the news, commenting: "Brisbane is a place where market-leading and innovative businesses can thrive, and I'm certain BrewDog will feel at home in our welcoming and progressive city."
Prior also had a message for Newcastle, which now has to settle for runner-up: "We couldn't have received a warmer welcome from the government, people and craft beer community in Newcastle," she said.
"The passion the community has shown for creating incredible beer is inspiring, and we look forward to a close relationship with Newcastle and other cities in New South Wales as we grow our beer distribution and BrewDog bar network."