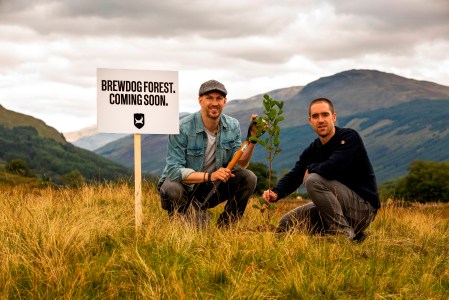 Global brewing big dogs BrewDog believe carbon neutral is no longer good enough as they become the world's first carbon negative international beer business.
As it moves into its 13th year of trading, the Scotland-based brewery, that opened a Brisbane location last year, announced this week it will remove twice as much carbon from the air than it emits annually. Its Make Earth Great Again report, where it outlines how it is reducing its footprint, can be read in full here.
The move continues their impressive sustainability goals and adds to their "better way of doing business" practices that include being a living wage employer, offering "Pawternity" leave and dedicating 10 per cent of their annual profits to charity.
"Our carbon. Our problem," co-founder James Watt said.
"So we are going to fix it ourselves. Huge change is needed right now, and we want to be a catalyst for that change in our industry and beyond.
"The scientific consensus is clear. Unless the world confronts the urgent carbon problem, science tells us that the results will be catastrophic. There has been too much bullshit for too long. Governments have proved completely inept in the face of this crisis. The change our world
and society needs, has to come from progressive business and we want to play our role and nail our colours to the mast."
To achieve their carbon negative status, BrewDog will spend $55 million on green investments across its business. It has already purchased 2,050 acres of Scottish Highlands land where it plans to plant a million trees by 2022.
In Australia, its sustainability efforts will include introducing solar panels at its Brisbane River location and a partnership with carbon solutions provider Carbon Neutral and their Yarra Yarra Biodiversity Project to offset all of its excess CO2 emissions. The Project aims to remove existing carbon and improve the environment by planting native species of trees and shrubs to recreate a healthy, functioning landscape.
BrewDog said its Australian business will look to work with green partners, "all of which have the highest standard of accreditation", and future plans include a sustainable drive through at the Brisbane brewpub.
"(It) will act as beer collection points, hubs for electronic vehicle deliveries and for closed loop, zero waste packaging such as growlers, mini-kegs and returnable bottles," BrewDog said via a press release.
Head here to find out how you can win free beer via BrewDog's DogKeeper package that marks International Dog Day on August 26.
Contact Beer & Brewer by clicking here to share your news and views.